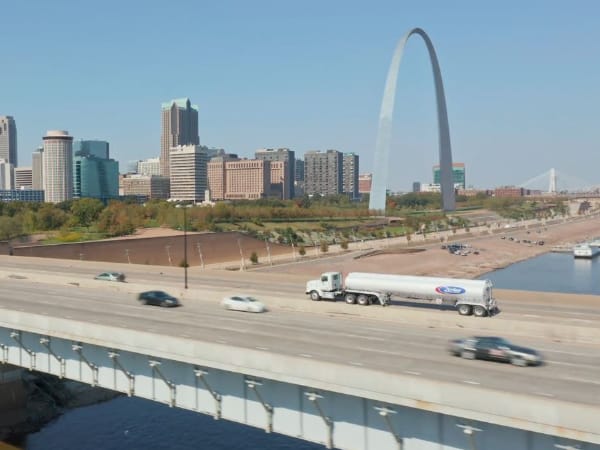 Delivering fuel in bulk, to customers large and small, is a huge part of our business. We've been providing bulk fuel deliveries for our customers' everyday usage for over three-quarters of a century. Over our long history, we've adapted our services to meet the growing and changing market needs. Today, our services include fuel transport (FTL); mobile fleet, and; tankwagon (LTL) fueling. We serve companies across the United States with a full line of commericial fuel products which include petroleum fuels, biofuels, and alternative fuels.
Add to that, our extensive expertise in fuel management or fixed pricing services and you're sure to keep your business running efficiently at a low cost.
Service Includes:
Professional Site Assessment
Jobsite Deliveries
Certified coastguard delivery (over water)
Methods of

Delivery
Full Truck Loads:
Also known as "FTL" or "Transport Loads", these deliveries are generally 6,000 gallons or more. With our modern, company-owned fleet, and immediate access to affiliates that provide nationwide expanded delivery, Heritage Petroleum offers fuel transport services from multiple supply points across the U.S. This not only speeds delivery times but allows us to provide you with competitive pricing. Our vast network of carriers also enhances delivery capabilities and allows you to set schedules that make sense for your specific needs.
Less Than A Truck Load:
Also known as "LTL" or "Tank Wagon Loads", these deliveries are usually less than 6,000 gallons. Heritage Petroleum's fleet of modern tank wagon trucks are prepared to deliver high-quality fuel wherever and whenever you need it.
We employ a full complement of cutting-edge management tools that help keep your tank full and your vehicles or equipment running worry-free.
Need smaller quantities?
Our dedicated tank wagons are also prepared to deliver those smaller quantities, in case you need them for such applications as mobile fleet fueling or at job sites.
Fuel

Supply

Your commercial fuel requirements are going to vary by market, municipality, and state. Navigating all of the rules, regulations, and policies of the fuel industry can be challenging. So, why not let Heritage Petroleum's industry experts handle this challenge by providing you with a roadmap that leads to the solutions for all of your fuel needs?

Heritage has supply agreements with every major fuel supplier in your area, and we completely understand each of the markets we serve and the factors that influence prices in your area. Our relationships – built over decades – allow us to support your multiple business locations and mitigate any supply interruptions. We'll help you set budgets for up to 24 months and then, manage your entire supply chain from sourcing to filling your tank.

Fixed Fuel Pricing
Learn the difference between our products and services.

Heritage Petroleum is an industry leader and can be your sole resource for fuel supplies and services. However, our abilities go way beyond merely supplying and delivering fuel. We have a comprehensive service offering that compliments everything we do, from fleet cards, to storage solutions, From DEF to lubricants. From inventory management to smart technology solutions – Let us put our more than 75 years of experience to work for you.